On June 20, the VeChain Foundation announced the arrival of VIP-220 on its exclusive Testnet through Twitter.
This is an updated version of the project's consensus algorithm that added block finality, preserved the system's usability and robustness by decoupling finality from the PoA system, added minimal complexity to the existing system, and added just a single bit more information per block for network communication.
Many are speculating as to whether VeChain pricing is likely to see another surge in light of this improvement to the project's Proof-of-Authority 2.0.
Buy VET Token via Crypto.com Now
Your capital is at risk.
What Is The Significance of VIP-220 Upgrade?
The PoA 2.0 marks a significant advancement for the project, even if it is only now operational on the Testnet.
There are other grounds to anticipate a rise, including VeChain's recent $100 million sponsorship agreement with the UFC and its recent collaborations and alliances with businesses both inside and outside the cryptocurrency sector.
VeChain has put in extra effort in the year, and the rewards are evident. During the past six months, the project has advanced consistently and in a visible manner.
Its greatest accomplishment is the rollout of VIP-220 on the Testnet, which the team described as a significant step toward launching the Proof of Authority 2.0 upgrade.
The invention of the finality device is where the true value of VIP-220 rests. Blocks can be certified twice using this approach.
Additionally, this will make it very hard to undo transactions, which, according to VeChain, may potentially spur widespread adoption.
Visit Crypto.com to Buy VeChain Now

Your capital is at risk.
How Has This Affected VET Price?
VeChain's native coin, VET, had a lot of activity during the past week. Beginning on last Wednesday, June 15th, the token initially experienced a decline to $0.02154, which was abruptly interrupted and replaced by a sharp ascent to $0.025, which ultimately served as significant resistance.
Sadly, this level refused to let the token pass through it, sending it down by $0.023, where it stayed until June 18th.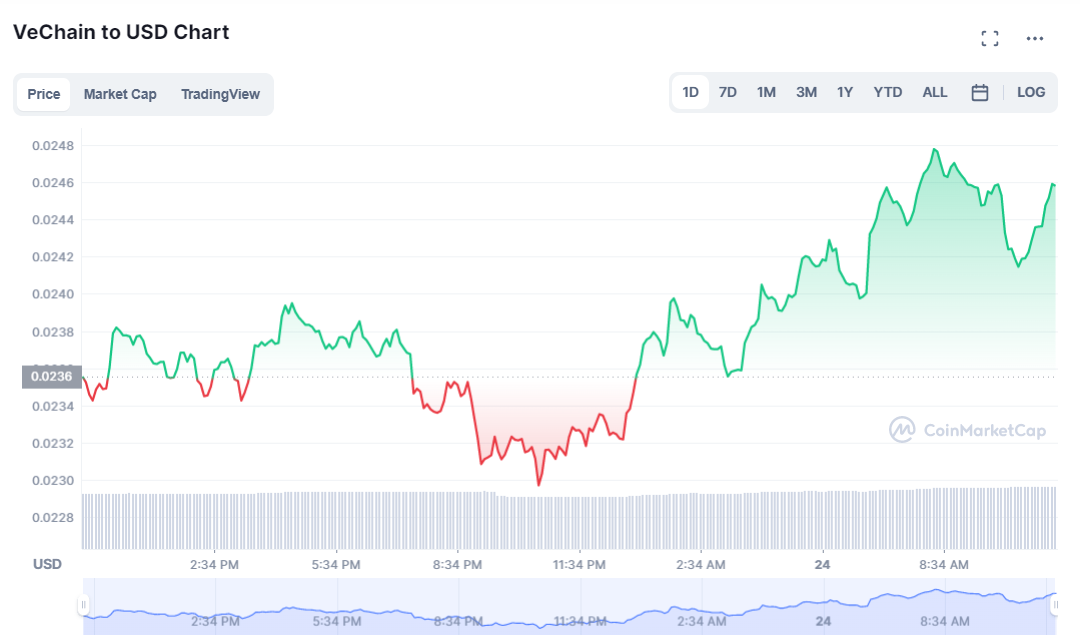 But on the 18th, the support abruptly collapsed, sending VET plummeting in a couple of hours to $0.020. Fortunately, getting to this support helped it to recover a little and get back up.
Before falling once more and finding a reliable support around $0.021, the token almost reached $0.022.
A dramatic breakthrough of the resistance at $0.022 has served as the project's support ever since June 19 which marked the beginning of the project's path to growth.
On the other hand, the June 20th news of the debut of VIP-220 which went live on the Testnet seemed to have given VET pricing the lift it sorely needed.
Your capital is at risk.
The token climbed to a slight obstacle at $0.0235 before ultimately breaking over it on June 21 and climbing back to $0.025.
Now, this level proved to be too difficult to surpass, and the price started to decline once more. It is currently $0.02269, down 4.52%.
Read More:
Lucky Block – Our Recommended Crypto of 2022
New Crypto Games Platform
Featured in Forbes, Nasdaq.com, Yahoo Finance
LBLOCK Token Up 1000%+ From Presale
Listed on Pancakeswap, LBank
Free Tickets to Jackpot Prize Draws for Holders
Passive Income Rewards – Play to Earn Utility
10,000 NFTs Minted in 2022 – Now on NFTLaunchpad.com
$1 Million NFT Jackpot in May 2022
Worldwide Decentralized Competitions
Cryptoassets are a highly volatile unregulated investment product. No UK or EU investor protection.